The diverse array of campus computing resources available to SU's researchers was created to take on new and greater computational tasks, enhance research productivity, increase the competitiveness of grant submissions, and advance scientific discovery across many disciplines. Information Technology Services (ITS), in collaboration with the Research Computing Advisory Council (RCAC), will host a series of Computing Colloquies designed to help campus researchers identify and make the most of these resources.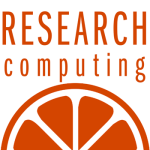 The first Computing Colloquy will occur Wednesday, October 7th from Noon to 1:00 p.m. and feature remarks by Melissa Green, assistant professor of mechanical and aerospace engineering in the College of Engineering and Computer Science. She will share how her research group successfully takes advantage of campus computational resources and overcomes challenges, barriers, and obstacles. This session will be held in the Katzer Collaboratory, 347 Hinds Hall. Lunch will be provided for all who pre-register.
These sessions will provide attendees opportunities to:
Connect with other researchers on campus
Establish and participate in an ongoing campus dialogue centered on research computing
Hear first-hand from other SU researchers who utilize computing as significant components of their research, and how they have taken advantage of SU's computational resources
Receive information on available resources and navigating the landscape
Meet and engage SU's research computing staff
The second Computing Colloquy will feature M. Lisa Manning, associate professor of physics in the College of Arts and Sciences on Wednesday, November 18 from 3:00 to 4:00 p.m. in the Katzer Collaboratory. A computational researcher in soft matter physics, Manning runs custom high-throughput and high-performance computer code on a local cluster at the University's Green Data Center and on OrangeGrid. She works with wide-ranging applications from designing new structural materials such as bulk metallic glasses to understanding biological processes such as embryonic development and cancer metastasis.
All faculty, students, and staff conducting, planning, or supporting research activities at Syracuse University are invited to both sessions.
If you have questions about the Computing Colloquy sessions, send them to researchcomputing@syr.edu or Eric Sedore.