About the Sessions
These sessions will explore how computing resources help researchers take on new and greater computational tasks, enhance research productivity, increase the competitiveness of grant submissions, and advance scientific discovery across many disciplines. Participants will have opportunities to:
Connect with other researchers on campus
Participate in an ongoing campus dialogue centered on research computing
Receive information on available resources and navigating the landscape
Meet and engage SU's research computing staff
Information Technology Services (ITS) hosts the sessions, in collaboration with the Research Computing Advisory Council (RCAC). CART services and other accommodations are available by request when registering to attend.
Teng Zheng – April 17, 2018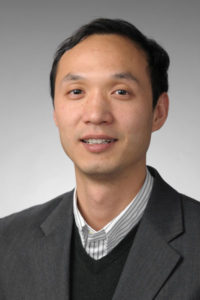 Teng Zhang, an assistant professor in the Mechanical and Aerospace Engineering in the College of Engineering and Computer Science, presented Topology design in soft structures by controlling surface wrinkles.  Materials like tissues and gels are typical soft structures that have low elastic modulus and thus are easily deformed.  Structures like surface topology change due to wrinkle instability are widely found in these soft materials and have been utilized to design smart adhesives, and anti-biofouling.  In this talk, Dr. Zhang  demonstrated the principle of topology design via examples of controllable surface wrinkles.  He presented a systematical study of the origin of the hexagonal wrinkle patterns observed in the experiments of bi-layer soft materials via large-scale simulations.
---
Tim Korter – April 25, 2018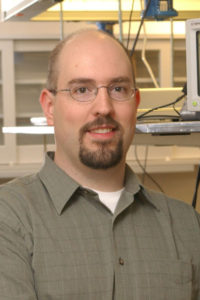 Timothy Korter, professor and chair of the Department of Chemistry in the College of Arts and Sciences, presented Nondestructive and Noninvasive Identification of Historical Pigments.  Pigments found in modern art objects are often completely unlike those found in antiquity.  The detection and identification of exact pigment components are critical to art restoration and conservation and important to revealing the provenance and authenticity of art pieces.  Nondestructive testing is required, and noninvasive approaches are greatly preferred.  Low-frequency vibrational spectroscopy is an emerging non-contact method for establishing the unique spectral fingerprints of pigments in art objects.  Dr. Korter's laboratory uses terahertz time-domain spectroscopy (THz-TDS) and low-frequency Raman spectroscopy (LFRS), both incredibly sensitive to the chemical identities and three-dimensional solid-state packing arrangements of pigments.  The complete understanding of the observed spectral fingerprints is a continuing challenge due to the complexity of the samples.  His team utilizes ab initio quantum mechanical simulations to simulate the structures and vibrational motions of both inorganic and organic materials.  This enables complete assignment of the spectra and thereby unambiguous identification of pigment species.  This work consists of rigorous calculations involving hundreds of atoms.  The efficient parallel computing environment at Syracuse University makes it possible.
The Computing Colloquies help campus researchers identify and make the most of the diverse array of campus computing resources available at Syracuse University.  All faculty, students, and staff conducting, planning, or supporting research activities at Syracuse University are invited to the sessions.