About the Colloquies
These sessions will explore how computing resources help researchers take on new and greater computational tasks, enhance research productivity, increase the competitiveness of grant submissions, and advance scientific discovery across many disciplines.
Participants will have opportunities to:
Connect with other researchers on campus
Participate in an ongoing campus dialogue centered on research computing
Receive information on available resources and navigating the landscape
Meet and engage SU's research computing staff
Information Technology Services (ITS) hosts the sessions, in collaboration with the Research Computing Advisory Council (RCAC). CART services and other accommodations are available by request when registering to attend.
Ken Harper
Tuesday, April 2 from 12:00-1:30 p.m – Katzer Collaboratory, 347 Hinds Hall
Lunch will be included. Please register by Thursday, March 28.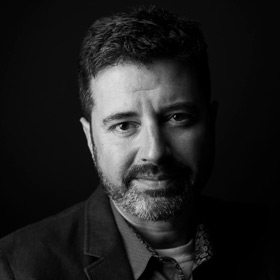 Ken Harper, an associate professor of Visual Communicatons in the S.I. Newhouse School of Public Communications, will present Keeping it Human: Working across campus, continents, and cultures to create photogrammetry.  An award-winning designer, professor, photojournalist and media educator, Harper has worked as a multimedia designer and producer for The Rocky Mountain News, MSNBC.com, New York Life, Bausch & Lomb and various nonprofit organizations including the United Nations, the Bahá'í Faith, The Electronic Intifada and Aidchild.
Currently, Harper is the first director of the Newhouse Center for Global Engagement at the Newhouse School. The Center is dedicated to bringing knowledge to the world through storytelling, collaboration and innovation. Harper's role in the Center stems from his long history in working internationally and he is now sharing that passion by bringing the classroom into the world, and the world into the classroom. Since joining the faculty at Newhouse, Harper has focused his international efforts on empowering local storytellers through training, exchange and activism.
Video Archive
Ben Akih-Kumgeh
Tuesday, April 16 from 12:00-1:30 p.m – Schine Student Center, Room 228 B
Lunch will be included. Please register by Thursday, April 11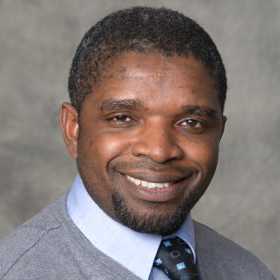 Ben Akih-Kumgeh is an assistant professor in the Department of Mechanical and Aerospace Engineering in the College of Engineering and Computer Science. His research is focused on thermodynamics and combustion. Part of his combustion research is concerned with modeling and computational analysis of turbulent chemically reacting flows. This work is motivated by the fact that the design of clean and efficient combustion systems can benefit from extensive computational analyses of combustion flows. For these analyses to be dependable, several physical phenomena that are associated with combustion flows have to be properly accounted for. Through detailed computations with various physical models, the combination of models that most accurately agree with carefully measured combustion properties can be identified. In the upcoming presentation, he will speak on modeling and numerical simulations of laser-induced combustion and spray combustion.
Video Archive
---
The Computing Colloquies help campus researchers identify and make the most of the diverse array of campus computing resources available at Syracuse University.  All faculty, students, and staff conducting, planning, or supporting research activities at Syracuse University are invited to the sessions.